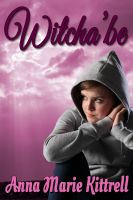 New to the small community of Redbend, Molly Sanders is delighted when she and Lenni Flemming become instant friends during the final weeks of her first Oklahoma summer. However, Bianca Ravenwood, Lenni's best friend and self-proclaimed witch in training, is less than thrilled. In fact, she's cursing mad, vowing to destroy Molly while honing her craft in the halls of Redbend High School.
Molly's new school becomes a waking nightmare as Bianca, beautiful wannabe witch, targets her in a jealous rage. Plagued by terrifying, inexplicable occurrences and an embarrassing case of panic-induced hiccups, Molly is unable to escape Bianca's snare.
But if Bianca refuses to back down and Molly refuses to stand up, not only will Molly lose the best friend she's ever had…she may also lose her sanity.
ebook AVAILABLE AT SMASHWORDS
https://www.smashwords.com/books/view/381793
print copy
http://www.amazon.com/Witchabe-Anna-Marie-Kittrell/product-reviews/1940099439/ref=dp_top_cm_cr_acr_txt?showViewpoints=1


Molly has a dramatic imagination and vivid nightmares causing her to fear Bianca and wonder why Lenni can't see what Bianca is up to. Molly struggles with Bianca's sighs, eye rolling, and ill temper until Molly dreams she's trying to help a little girl escape from an old house. The dream is about Bianca.

Through the help of a teacher, Mrs. Piper, who has the class journal their dreams, Molly realizes Bianca is hiding behind her tough exterior and when both girls join the youth group at church, they understand their need not only to forgive themselves but each other.

Ms. Kittrell keeps the reader captivated with this imaginative story. The characters are well developed and there are some edge of your seat moments during Molly's dreams.
A Great Read!, December 8, 2013
This review is from:

Witcha'be (Paperback)
Witcha'be is a fantastic read for all ages! Author Anna Kittrell takes us into the lives of three teenage girls as new relationships are formed, both good and bad, and how far each girl is willing to go to get what they want. I found myself reliving my own past apprehensions and fears from high school, just like Molly, Lenni, and Bianca as each girl deals with their own insecurities and problems. Kittrell weaves a great story blend with a hint of paranormal and a strong sense of faith into Witcha'be that feels true to the story and to the characters themselves. This is a beautiful story that I would highly recommend to everyone!